Billy Roche and the Red Guitar Tour
€20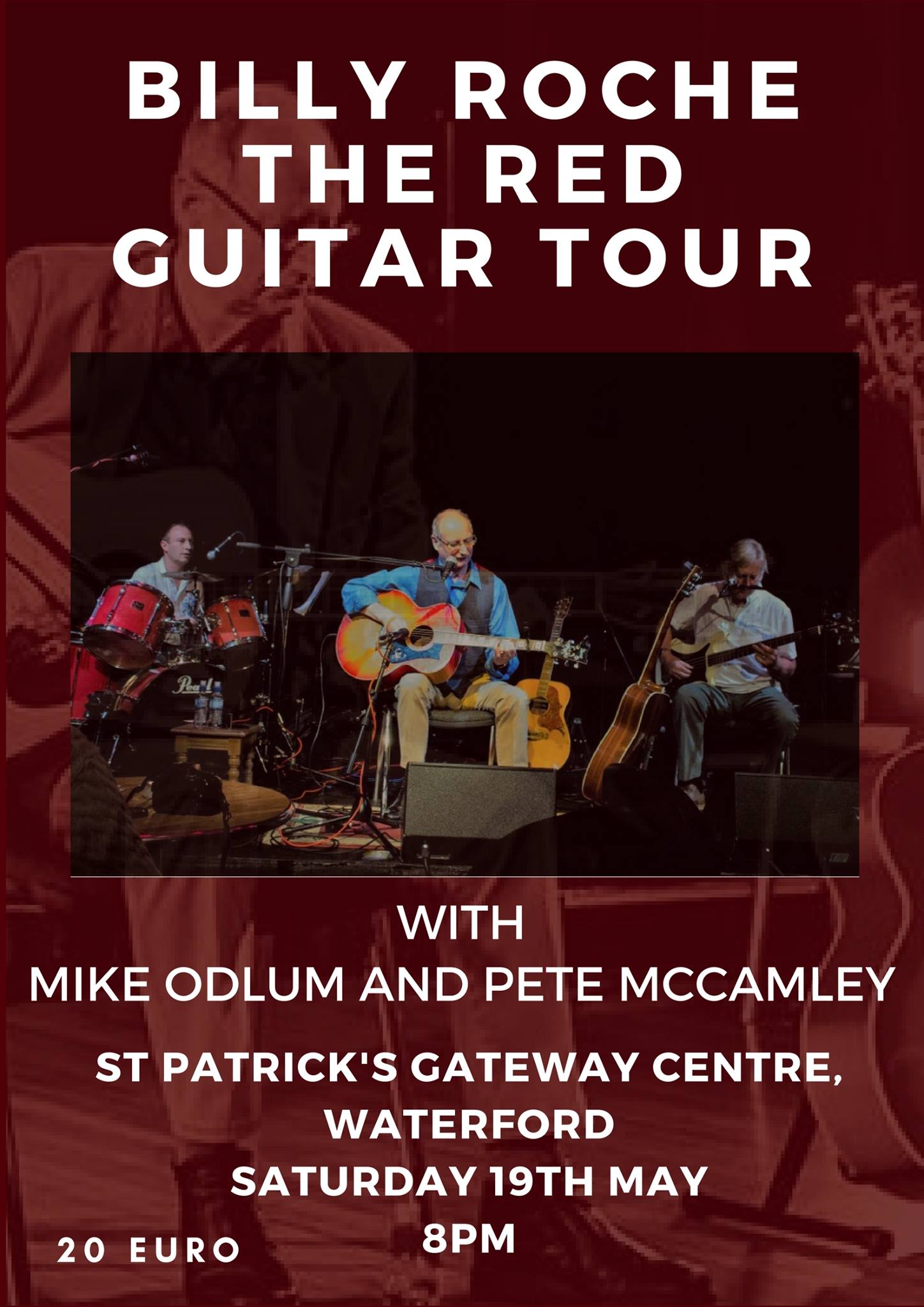 It was standing room only when Billy Roche brought his neat band and his red guitar to the Wexford Arts Centre last week. A small number of recent gigs had suggested that Billy's successes as a writer and playwright had been the music scene's loss, so this Red Guitar Tour gives us a chance to make up for lost time.
Roche's unique style not only stems from his expressive singing voice but his open-tuning guitar technique enables him to blend traditional folk elements with touches of sixties/seventies psychedelia and eastern overtones. Added to his already established deft way with words he has now created a body of finely-wrought songs that held the audience spellbound throughout.
Billy was aided and abetted by long-term Roach B and sidekick Mike Odlum on bass and keyboards, and comparative newbie Pete McCamley on percussion and anything else that came to hand, including a klaxon, a harmonica and a flute, and when the voices of all three combined they made a stirring whole. As you might expect, Billy's wit and some inter-band banter added to the gaiety of the occasion, as did some chat about the latest football scores.
But there was also much serious work to be done. 'Julia' has a delicate seventies prog-folk feel to it, while the murder ballad 'Three Lovely Ladies' was delivered with appropriate aplomb and just a little menace. 'On the Run' had echoes of Mike Heron' of Incredible String Band fame, 'Lost' is a plaintive song that evoked memories of Al Stewart and benefitted from Odlum's subtle piano contributions, and 'Yearning' left space for that droning open-tuning guitar style too.
But when Billy delivered a solo 'I Thought I Heard the Robin Sing' it was so deliciously sweet it needed nothing extra. The up-tempo 'That's All Right When You're Young' had a fuller band sound that clearly appealed to the Wexford Arts centre audience, while Napoleon' and 'Dead Man's Shoe's were laced with different kinds of foreboding.
All in all, this was a good-humored night that never lost sight of the quality of the songs and musicianship on offer.